Getting Started
Laika is a feature rich testing framework for meteor. With laika you can simply write tests that interact with both server and client(s).
Installation and Setup
First install laika from npm

sudo npm install -g laika
(you might need to install XCode Command Line Tools if you are on Mac)

Download and install phantomJS

You need to start a separate mongodb server

mongod
Write your first test with laika
By default laika uses tdd style for the test. (you can change it to bdd as well. see: laika options
You need to place tests in tests folder in your meteor app. Files placed in the tests folder will not be included in your app.
Our simple app
Our simple meteor application has a collection shared in both the client and server. This sample app is available on github
//collections.js
Posts = new Meteor.Collection('posts');

Let's write our first test. We'll test our collection on the server
//tests/posts.js
var assert = require('assert');

suite('Posts', function() {
  test('in the server', function(done, server) {
    server.eval(function() {
      Posts.insert({title: 'hello title'});
      var docs = Posts.find().fetch();
      emit('docs', docs);
    });

    server.once('docs', function(docs) {
      assert.equal(docs.length, 1);
      done();
    });
  });
});

We have defined a Posts test suite
Within that we've a test named 'in the server'
note that we've created our tests with test() method
Then we evaluate some code block in the server
Result will be send via an emit
Now we can listen to the event in tests
You can think server as an event emitter between the server and the test
Now let's run our first. Simply apply following command
laika

You'll see the output as below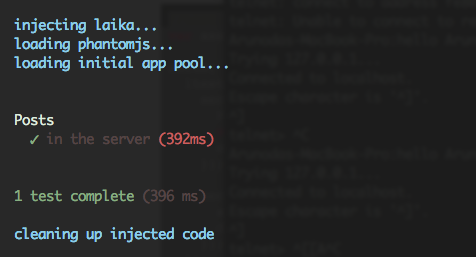 Lets write another test which includes both client and the server
this test also goes within the Posts suite
test('using both client and the server', function(done, server, client) {
  server.eval(function() {
    Posts.find().observe({
      added: addedNewPost
    });

    function addedNewPost(post) {
      emit('post', post);
    }
  }).once('post', function(post) {
    assert.equal(post.title, 'hello title');
    done();
  });

  client.eval(function() {
    Posts.insert({title: 'hello title'});
  });
});

Now we are observing a collection in the server
Client does the insert and we'll catch it on the server
You might have seen that our server object supports method chaining as well :)
Let's see the result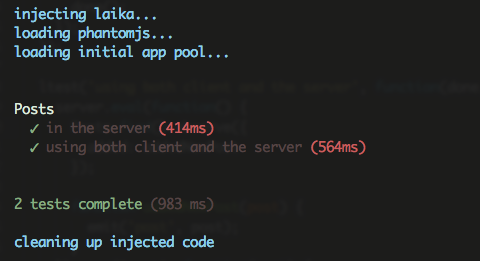 Let's write one last test with involving two clients
test('using two client', function(done, server, c1, c2) {
  c1.eval(function() {
    Posts.find().observe({
      added: addedNewPost
    });

    function addedNewPost(post) {
      emit('post', post);
    }
    emit('done');
  }).once('post', function(post) {
    assert.equal(post.title, 'from c2');
    done();
  }).once('done', function() {
    c2.eval(insertPost);
  });

  function insertPost() {
    Posts.insert({title: 'from c2'});
  }
});

In this test we use two clients to observe changes in the Post collection
You can create as many as clients by specifying arguments like above
So the result is